In Bruges
July 20th, 2014
On several recommendations, we boarded a train today for Bruges.  No, we haven't seen the movie yet, but we have it cued up for this evening.  After a lovely ride through the Belgian countryside, we arrived on the platform in Bruges.

We soon found the old town, with cobblestone streets and canals running through.

At lunch, Brian ordered mussels.  Liam and I each tried some and liked them.  Josie was okay to stick with her fries.  She's not usually eager to try new culinary options.  However, I offered her $10 to try one, and $100 if she liked it and wanted more.  She ate FIVE!  I consider it $100 very well spent.
After lunch we walked around the town more.  Some very cool OLD stuff including a 13th century hospital/museum, and a boat tour…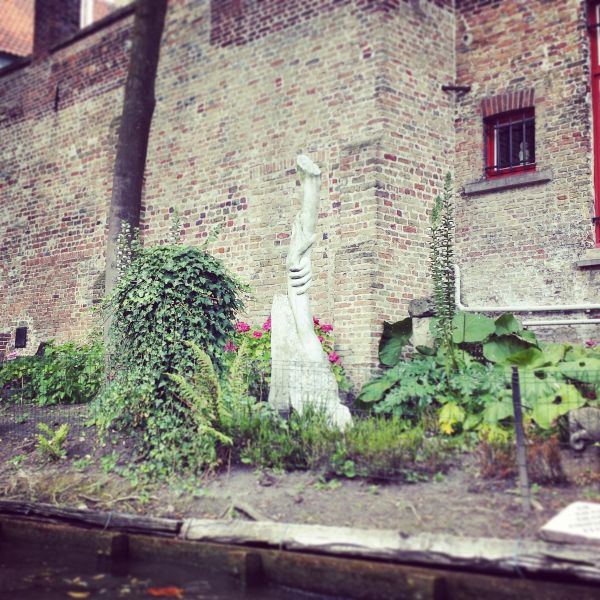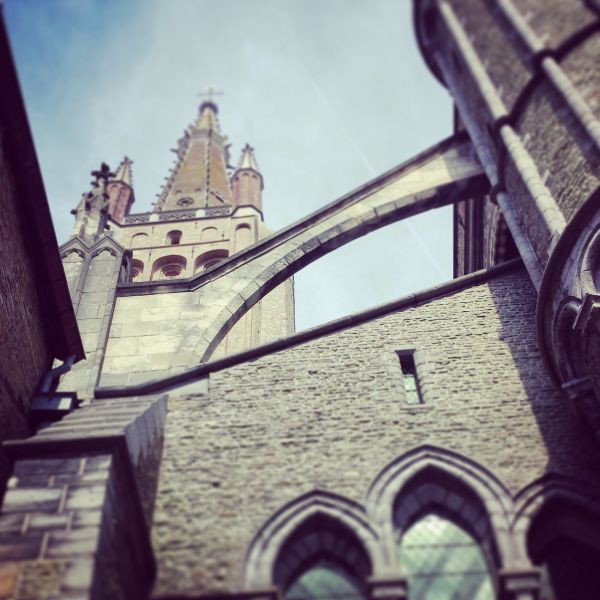 Flying buttress!!
Naked woman searching for contact lens.
Houses painted with the blood of tourists. (The tour guide had an interesting sense of humor, and looked not unlike Bradley Cooper.)
Buildings that go right down into the water.  I'm easy to please.  When I finally make it to Venice one day – I will lose my mind.
Treats.
And a rest in the park.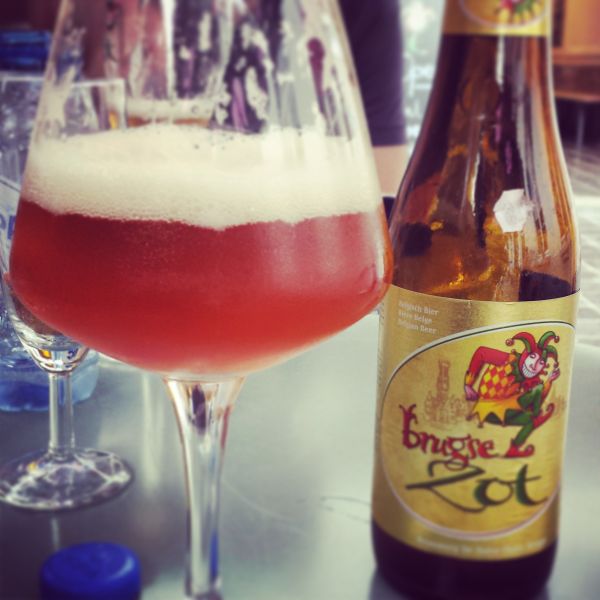 Followed by more treats…
Good spirits for the late ride home.
On our way home we had a couple interesting challenges.  The train back to Brussels seemed to just not show up.  I'm sure there was an announcement, but the stupid Americans didn't have a clue.  In French I can pick up about 5-10% of the gist of overhead announcements.  Here in Flemish country I am completely lost.
We got on a slow train which was going to take about 2 hours to get back to Brussels.  No problem except that it was already 9:00pm, and Josie was getting a little worried.  It was a good chance to share with her an important point.  "I understand you are worried, that's okay.  But this is why I am not worried: We are all 4 of us together, we have plenty of food and water, and money in our pocket.  Even if we just got on a train headed in the wrong direction, we will be fine."
This worked.  And of course we were not headed in the wrong direction.  At Ghent, the ticket taker was kind enough to tell us that a faster train was coming on the next platform in 9 minutes.  So we transferred to a super crowded express train and got back to Brussels at 10:00 instead of 11:00.
One final weird thing happened in Brussels.  We got off the train platform, and somehow made it into a section of the station that was separate from everything else.  One long hallway with stairs to the various train platforms, but no ticket counters, no information, no signs or connections to the Metro or any other local buses.  I felt like we stepped into the Twilight Zone.  For a moment we thought the station had closed up at 10:00 or something.  We went outside onto the street and used the last of our phone battery to look for the nearest Metro station.  We're pretty comfortable with the Metro system here now, so that's all we needed to find in order to get within 1 block of home.  That is, as long as Brussels Metro system doesn't magically turn into a pumpkin at 10:00pm.
Of course that was not the case.  We walked 50 yards to the next door back into the same train station, only this time it looked like the lively, bustling station we had left several hours earlier.  There were the Info booths, and the escalators both up and down, to the international trains as well as to the local Metro.  The Twilight Zone episode ended as quickly as it had begun.  Oddly, this is what I live for.  I love a good mystery.  I love a good Brian.  I love exploring new things with my family.  So getting hit with a weird mystery, with Brian, and solving it together with the family…. what else is there?
So we made our way down to the Metro, which of course looks a bit different at 10:00pm compared to all the midday trips we have made so far.  Still it's a very friendly place, some excited young families, and late commuters, and one old guy with a harmonica and his hand out.  Just enough color to make it interesting.
Yesterday was a great day.  Today (Sunday) we slept in, cleaned the house, and are working our way through a day-long ping pong tournament.
Love to all.
V